Links
Archives
Discuss political correctness in Chapel Hill/Carrboro & Orange County, NC
Saturday, January 24, 2004
BUSH!!!
With all the Bush-bashing I thought this would be good food for thought: It's easy to forget the promises that Bill and Hillary made while in office. It strikes home when it is listed like this:
After the 1993 World Trade Center bombing, which killed six and injured 1,000, President Clinton promised that those responsible would be hunted down and punished.
Bush covered it.
After the 1995 bombing in Saudi Arabia, which killed five U. S. military personnel, Clinton promised that those responsible would be hunted down and punished.
Bush covered it.
After the 1996 Khobar Towers bombing in Saudi Arabia, which killed 19 and injured 200 U. S. military personnel, Clinton promised that those responsible would be hunted down and punished.
Bush covered it.
After the 1998 bombing of U.S. embassies in Africa, which killed 224 and injured 5,000, Clinton promised that those responsible would be hunted down and punished.
Bush covered it.
After the 2000 bombing of the USS Cole, which killed 17 and injured 39 U.S. sailors, Clinton promised that those responsible would be hunted down and punished.
Bush covered it.
Maybe if Clinton had kept his promise, 3,000 people in New York and Washington, D. C. who are now dead would be alive today. Bush told those firemen -- they would hear us too.
And, now that Bush is taking action to bring these people to justice, we have opponents charging him with being a warmonger.


Saturday, December 06, 2003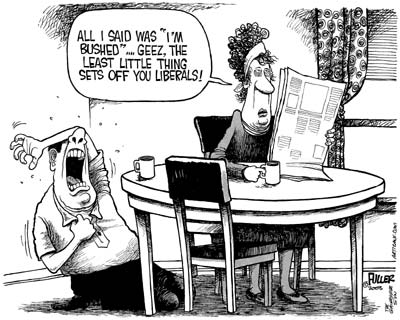 Friday, December 05, 2003
12 Step Recovery Program

Step 1: Admitting that you're a liberal
This is the first step for every liberal on the way to recovery. It is important to understand that you're not "progressive", "moderate", or "enlightened". You're a liberal, and you need to be honest with yourself and the world about that fact. Start with repentance followed by public admission. "Hi, I'm _____ & I'm a liberal". The first step in recovery is admission.

Step 2: Pledge to support your beliefs with facts
Realize that truth is more important than moral superiority and is the only way to come over to reality. You must research beyond propaganda from the left wing rags to understand things as they really exist in the world. You can no longer argue based on "feelings" or emotion. You will actually need to back up your arguments with real information. This is a difficult step, because it means you can't be lazy any more.

Step 3: Love America
This may be the most difficult step for those of you who are hippies and peaceniks. Admitting that the country you have begun to hate actually stands as a beacon to defend freedom throughout the world can make some of you physically ill. Hundreds of millions living under tyranny and oppression is not PEACE or PATRIOTIC! You might want to make a visit to a military cemetery to better understand that these men and women gave their lives so that you could spew hatred. Otherwise, you would currently be living in a police state that would never let you wear that nasty lip ring, let alone speak out against your government.

Step 4: Take a college level economics class
A Socialist is defined as someone who's never taken an economics class. Most Socialists have a hard time balancing their checkbooks, let alone explaining the simple concept of supply-and-demand. It's time to flush your complete ignorance of basic economics down the toilet and understand how the world actually functions. This concept will be very important for the next steps that involve communism, facts about corporations, and the inefficiencies of government.

Step 5: Say "no" to Communism and Socialism
While this concept is obvious to most of the free world, it is an important step in your recovery process. If you have difficulty with this step, spend a week living and working in Cuba.

Step 6: Corporations are not evil
If you're reading this article online or in an email, it's thanks to corporations. If you get some kind of paycheck, you can thank corporations. If you work for a non-profit or the government, you still have to thank corporations. The non-profit sector and the government wouldn't have any money to pay you without corporations. It is also important that you understand that making a profit doesn't equate to "greed" or exploitation. Capitalism has created the greatest society in our world's history. Even communist countries need corporations to survive, so enjoy a nice, hot cup of reality.

Step 7: The government is inefficient
If you are one of those liberals who believe the government should tax us more in order to take care of society, you need to pay special attention to this step. You need to realize that government bureaucracy will waste most of your tax dollars, while the private sector will put your money to much better use. Even most Democrat politicians understand this to some degree, which is why Hillary's socialist healthcare proposal was voted down by a majority of both Democrats and Republicans.

Step 8: The earth is not your "mother", and she's not dying
The time has now come to stop your donations to Greenpeace, Club Sierra, and every other organization to which you belong. Face the reality that the earth, society and our environment are better off today than ever in recorded history and that they are continuing to improve. I realize that many of you tree huggers will have a very difficult time letting go of the Douglas Fir on this one. I would suggest reading The Skeptical Environmentalist by Bjorn Lomborg. Mr. Lomborg is a former member of Greenpeace and is currently a statistics professor at a university in Denmark. He set out to prove the world was in bad shape and ended up surprising himself by proving the exact opposite.

Step 9: Stop smoking the wacky tobacco
Okay, some of you might need to enter another 12-step program to complete this step. Marijuana is distorting your sense of reality, and you need to stop using it. Besides, you'll save a fortune on snacks.

Step 10: Eat a cheeseburger
If God didn't intend for us to eat animals, he wouldn't have made them out of meat. You can put your sprouts and tofu on the hamburger, but get some meat into you. You'll look and feel better than you ever imagined.

Step 11: Stop re-writing political history
It's now time to admit that Bill Clinton is a lying-cheating-sexist-racist-rapist jackass, Hillary Clinton is one of the worst role models for women in this country, Al Gore really did lose the 2000 election by every vote tabulation you attempt, Ronald Reagan ended the Cold War and didn't create the homeless and HIV problem, and Jimmy Carter is a fine man but has one of the worst presidential records of anyone in history.

Step 12: Be a missionary
Once you have completed the previous steps to overcoming liberalism, it's time for you to share this awakening with others who are not as fortunate. Go out amongst the liberal sheep and spread the good word of your freedom from the chains of ignorance that once bound you.

Congratulations!… and welcome to reality.

Wednesday, December 03, 2003
Right ON!!!
PC



I like big cars, big boats, big motorcycles, big houses and big campfires.

I believe the money I make belongs to me and my family, not some governmental stooge with a bad comb-over who wants to give it away to crack addicts for squirting out babies.

Guns do not make you a killer. I think killing makes you a killer. You can kill someone with a baseball bat or a car, but no one is trying to ban you from driving to the ball game.

I believe they are called the Boy Scouts for a reason and that reason is that there are no girls allowed. Girls belong in the Girl Scouts!

I think that if you feel homosexuality is wrong, it is not a phobia, it is an opinion.

I don't think being a minority makes you a victim of anything except numbers.

The only things I can think of that are truly discriminatory are things like the United Negro College Fund, Jet Magazine, Black Entertainment Television, and Miss Black America. Try to have things like the United Caucasian College Fund, Cloud Magazine, White Entertainment Television, or Miss White America and see what happens. Jesse Jackson will be knocking down your door.

I have the right "NOT" to be tolerant of others because they are different, weird, or tick me off.

When 70% of the people who get arrested are black, in cities where 70% of the population is black, that is not racial profiling, it is the law of statistics.

I know what sex is, and there are not varying degrees of it. If I received sex from one of my subordinates in my office, it wouldn't be a private matter or my personal business. It would be "FIRED" immediately! And deservedly so…

My fellow countrymen should not have died in vain so you can leave the countries you were born in to come over and disrespect ours.

I believe that if you are selling me a milk shake, a pack of cigarettes, a newspaper or a hotel room, you must do it in English! As a matter of fact, if you want to be an American citizen you should have to speak English!.

I think the police should have every right to shoot your sorry ass if you threaten them after they tell you to stop. If you can't understand the order "freeze" or "stop" in English, see the above.

I feel much safer letting a machine with no political affiliation recount votes when needed. I know what the definition of lying is.

I don't think just because you were not born in this country, you are qualified for any special loan programs, government sponsored bank loans or tax breaks, etc., so you can open a hotel, coffee shop, trinket store, or any other business.

We did not go to the aid of certain foreign countries and risk our lives in wars to defend their freedoms so that decades later they could come over here and tell us our constitution is a living document and open to their interpretations.

I don't hate the rich. I don't pity the poor. I know wrestling is fake, but so are movies and television, and that doesn't stop you from watching them. I believe a self-righteous liberal or conservative with a cause is more dangerous than a Hell's Angel with an attitude.

I think Bill Gates has every right to keep every penny he made and continue to make more. If it ticks you off, go and invent the next operating system that's better and put your name on the building. Ask your buddy that invented the Internet to help you.

It doesn't take a whole village to raise a child right, but it does take a parent to stand up to the kid and smack his/her little ass when necessary and say "NO".

I think tattoos and piercing are fine if you want them, but please don't pretend they are a political statement. And please stay home until that new lip ring heals, I don't want to look at your ugly infected mouth as you serve me french fries!

I am sick of "Political Correctness" and of all the suck ups that go along with it.

I know a lot of black people, and not a single one of them was born in Africa, so how can they be "African Americans"? Besides, Africa is a continent. I don't go around saying I am a European American because my great, great, great, great, great, great grandfather was from Europe. I am proud to be from America and nowhere else.

And if you don't like my point of view, tough! GET OVER IT!!! WAKEUP WHILE YOU STILL HAVE A COUNTRY TO WAKE UP TO.


Discuss Political Correctness in Orange County, NC